Pre-booking of world's cheapest Jio Phone having 4G features will be start from Thursday. This phone will be given on the basis of "First come,first serve". The company has started taking subscriptions in the month of August. This phone is of only Rs.1500 with 4G features and 3 years free refundable plan. To book the phone, you have to pay Rs.500 and rest of the Rs.1000 on its delivery. This phone will reach to the users in the first week of September. On 22nd July, Mukesh Ambani had declared to launch this phone. He had displayed roadmap of JIO in the leadership of his children Akash and Isha Ambani. Get the details for booking the phone: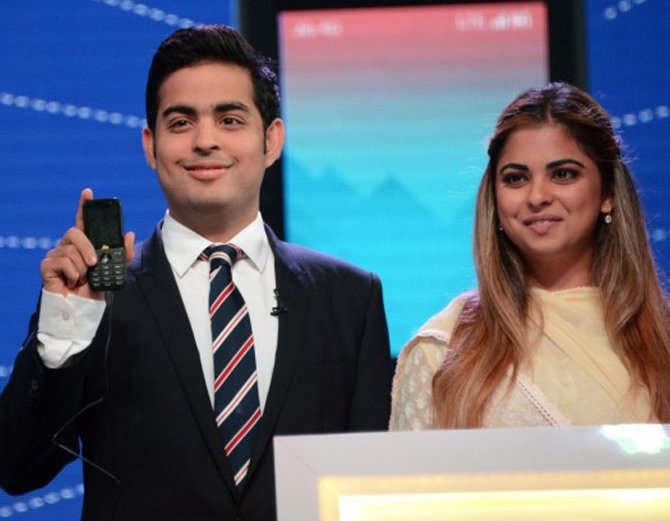 Q- What to do for pre-booking the phone?
A- You can book the phone online as well as offline. For the offline mode you have to go to the Jio retailers and Reliance Digital Store to book the phone. Apart from this, you can book the phone online through websites jio.com and MyJio.
Q- How much money we have to pay for pre-booking?
A- You have to give only Rs.500 at the time of pre-booking. Give rest of Rs.1000 at the time of its delivery.You can take the amount back after three years on the returning of the phone
Q- What are the documents required to buy this phone?
A- You have to give 'Adhaar Card' along with a photograph. Without the adhaar card anyone could not be able to get the phone. There is no need to give its hard copy.
Q- How much phones can be booked at one time?
A- You can book 5 to 6 phones on one id. Go through the website of Jio,there will be a category of business where you can buy the phones in bulk.This service is given to the small companies running business.
Q- What we will get free with Jio phone?
A- There will be entertainment, messaging and many preloaded apps. Jio TV app will have around 400 channels with Jio music and Jio Movies. There will be social networking app of the company. Voice calls are always free and there is a voice assistant which will dial the phone on your voice.
Q- How much money it will take to recharge?
A- After buying the phone you have to take a recharge of Rs.153 every month. It will have 4g network including 500MB data per day. After finishing 500MB data, there will be slow speed.
Q- What are the plans other than Rs.153?
A- The company has launched small recharge of Rs. 53 and Rs.23. You can use Jio network one week in Rs.53 and two days in Rs.23.